EverPup Ultimate Daily Dog Supplement (180 grams)
Experience the transformative benefits of EverPup®, the cutting-edge daily dog supplement developed by renowned veterinarian Dr. Demian Dressler, designed to enhance your dog's overall health and combat modern environmental challenges.
Comprehensive Formula: EverPup is a "one-stop shop" for a dog's supplement needs, providing a convenient and cost-effective solution.
Nutraceutical-Quality Ingredients: EverPup incorporates high-grade botanicals such as Silymarin, Gingerols, Citrus Bioflavonoids, Rutin, Inulin, and Spirulina Pacifica, all well-researched and evidence-based for optimal health.
Sprinkle-On Powder: Designed to be easy to administer, use the included scoop for precise dosing and give your pup an added boost to their daily routine.
Product Description
EverPup® is an all-in-one daily dog supplement meticulously formulated by Dr. Demian Dressler, a renowned veterinarian with a track record of improving canine health. This powerful supplement is crafted to address key aspects of a dog's well-being, including joint health, digestive wellness, and immune support. With premium natural ingredients, including apoptogens, glucosamine, probiotics, and essential vitamins, EverPup offers a comprehensive solution to combat modern environmental challenges that may threaten your dog's health.
Getting EverPup for your dog means investing in their long-term vitality and happiness. It's a simple, yet impactful addition to their daily routine that helps ensure they maintain mobility, experience digestive comfort, and have a robust immune system. Backed by Functional Nutriments' 100% satisfaction guarantee, EverPup is a trusted choice for dog owners who prioritize their furry friend's overall well-being.
| Weight Range (lbs.) | Scoops Per Day |
| --- | --- |
| Under 15 lbs. | 1/2 Scoop |
| 15.1-80 lbs. | 1 Scoop |
| 80.1 lbs. or more | 2 Scoops |

May be mixed in food for administration.

Avoid in dogs with known allergies to ingredients in this product. Safe use in pregnant animals has not been proven. Keep out of reach of children.

Store at 15-30°C (59-86°F). Protect from heat, light and moisture. Do not purchase if seal is broken. This product is sold by weight, not volume. Contents may settle.
A proprietary blend [Spirulina (Spirulina pacifica), Inulin, lecithin powder (from Glycine max), Rutin (flowers) (from fava), gingerols (from Zingiber officinale root extract), silymarin (from Silybum marianum seed extract), Curcuminoids (from Curcuma longa root extract), beta-glucans (from Avena sativa), Luteolin (from Citrus sinensis)], Glucosamine (from shrimp and crab shell), Calcium carbonate and dicalcium phosphate (Calcium), Dicalcium phosphate (Phosphorus), Magnesium oxide (Magnesium), Lactobacillus sporogenes, Potassium citrate (Potassium), Zinc citrate (Zinc), Niacin, Ferrous fumarate (Iron), Copper citrate (Copper), D-calcium pantothenate (Pantothenic acid), Manganese sulfate (Manganese), Riboflavin, Thiamin mononitrate (Thiamin), Pyridoxine HCl (Vitamin B6), Cyanocobalamin (Vitamin B12), Retinyl palmitate (Vitamin A), Potassium iodide (Iodine), Folic acid (Folate), Selenium yeast (Selenium), Dl-alpha-tocopheryl acetate (Vitamin E), Cholecalciferol (Vitamin D)

Other Ingredients: Flaxseed powder (from Linum usitatissimum), brewer's yeast (from Saccharomyces cerevisiae), natural beef liver powder. Inactive Ingredients: silica (a moisture reducer).
View full details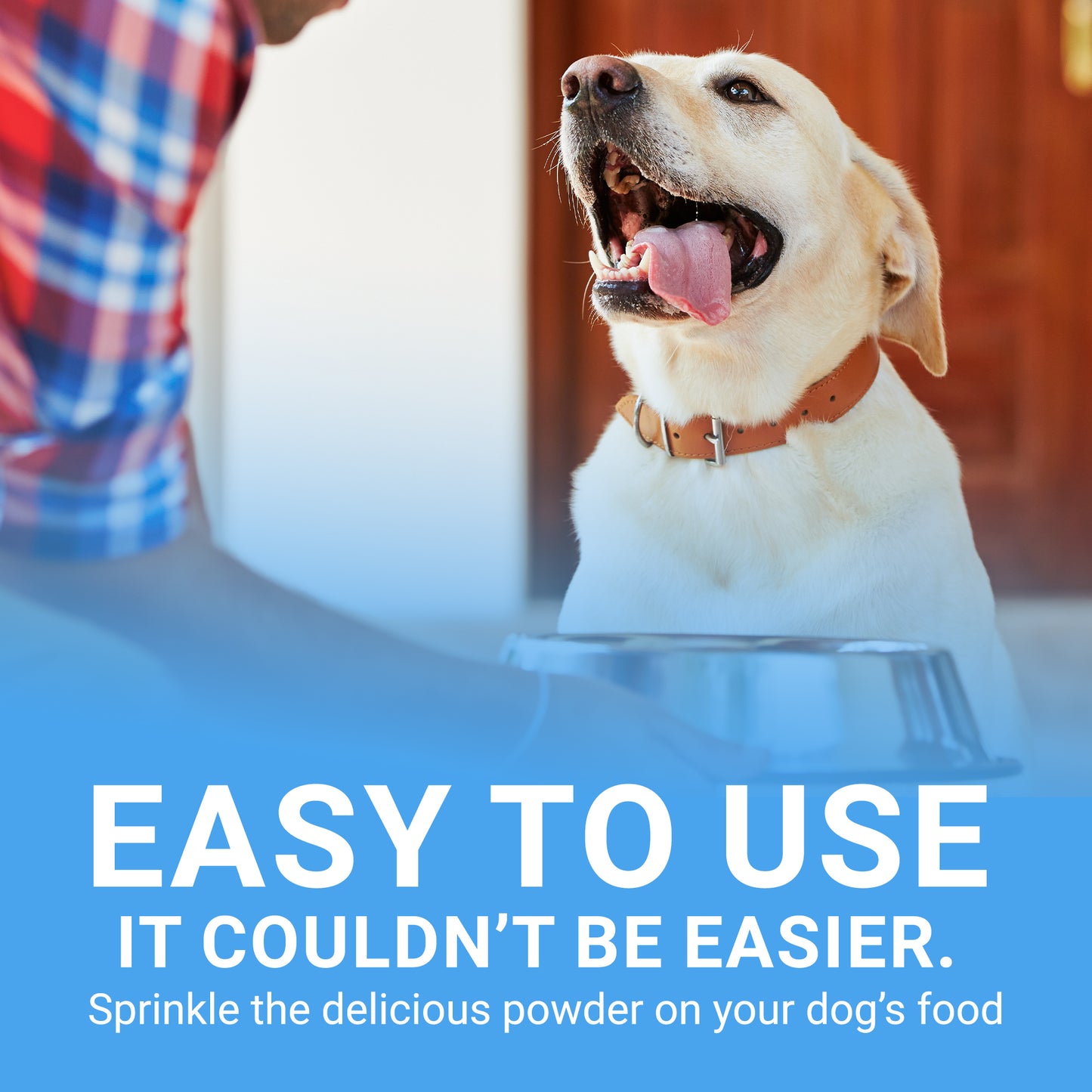 EverPup Ultimate Daily Dog Supplement (180 grams)
The Ultimate
Daily Dog Supplement
Best Ever Reasons to Try EverPup
EverPup® is a revolutionary dog supplement developed by internationally respected veterinarian Demian Dressler, DVM, co-author of the best-selling animal health book The Dog Cancer Survival Guide and developer of Apocaps® -- a powerful nutraceutical that's helped tens of thousands of dogs and their veterinarians.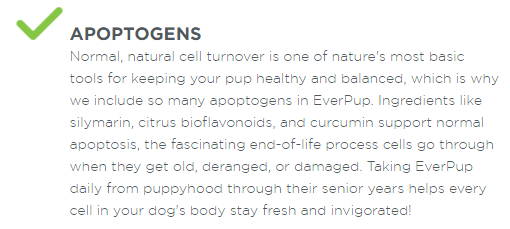 Every Dog Deserves to Live a
Long and Healthy Life
EverPup® daily dog supplement is not JUST a dog multivitamin, or a dog joint joint supplement. It's so much more! EverPup provides broad based support for all organs, cells, and body processes.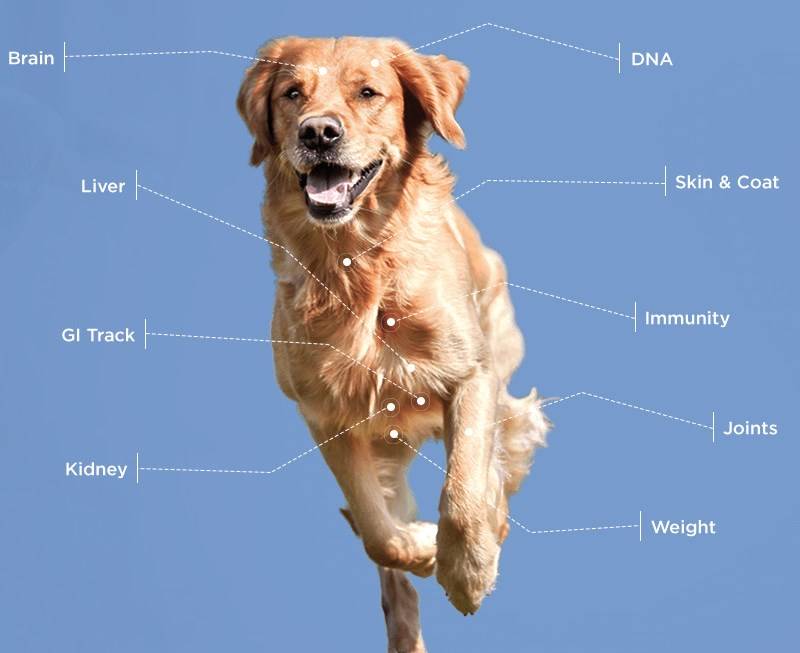 Try the 30 Day EverPup Challenge
Press the "Play" button above, to learn how EverPup Daily Dog Supplement has changed the lives of pets, and their owners. Try EverPup for free for 30-days!
Dogs

Love EverPup

and

So Will You!

"My 13.5 year-old border terrier Bear has been taking EverPup for nearly a month now, and I am completely amazed. He's doing things he hasn't done since he was a puppy. The flexibility in his back legs has improved. His coat looks healthier and he is enjoying his life again ... Bear will be using it from now on."
– Patricio Osborne

"Our two Westies really seem to like this on their food, and they seem to be scratching less."
– Donna Masher
"Our 14 year-old golden retriever has never been in better shape and this supplement has really helped keep her perky and moving!"
– Monica Murray

"This product comes highly recommended to help keep my dog's immune system strong. After having had a dog with cancer I am willing to do what it takes to help keep him healthy."
– Terry Kostes

"I have all three of my dogs (2 Yorkies and 1 German Shepherd) using this product. It has helped change their lifestyle. They move much better, and have more energy. Love it!"
– Winston T.